Our DIY build kits - What our customers say :
......I would just like to thank you for all your help and co-operation with the planning of our conservatory.....The whole project was a delight to build and we are totally thrilled with the end result.....
M Clark, Clacton.
Just a quick note to say the conservatory was of excellent quality and the installation went perfect with the help of the installation guide which was very easy to understand. Myself and the wife are very pleased with it, so would just like to thank you for your excellent service......
Malcolm M Birmingham

D
i
y
conservatoryshop.co.uk
-
Tel: 01452226290, Open 7 days : 9.00am - 8pm
Celsius Glass and Poloycarbonate U value Chart
The table below gives you a clearer idea of the impressive performance of Celsius One, Celsius Elite and Celsius Clear when compared to standard glass or polycarbonate.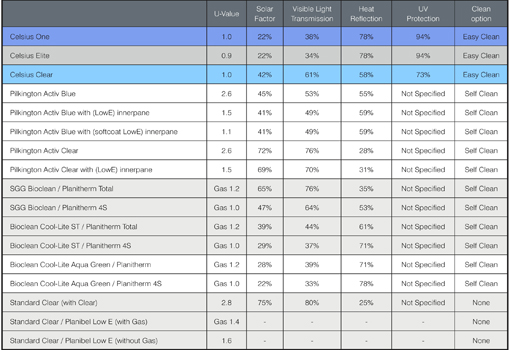 The figures shown above are for guide purposes only. Slight variations may occur due to glass specification, time of year, manufacturing tolerance, point of manufacture and type of instrumentation used.